Foundation
Reformer
Pilates
Our studio has re-opened for in-studio classes with enhanced cleaning and distancing measures! 
Check out our schedule for in-studio and online class options!
Our boutique studio is a sanctuary for you to relax your mind while moving your body. Our goal is to ensure you have the best hour of your day, as self-care is the foundation for a happier, healthier life. We welcome people of all ages and athletic abilities to visit our space.
For our COVID-19 Safety Plan, please see below.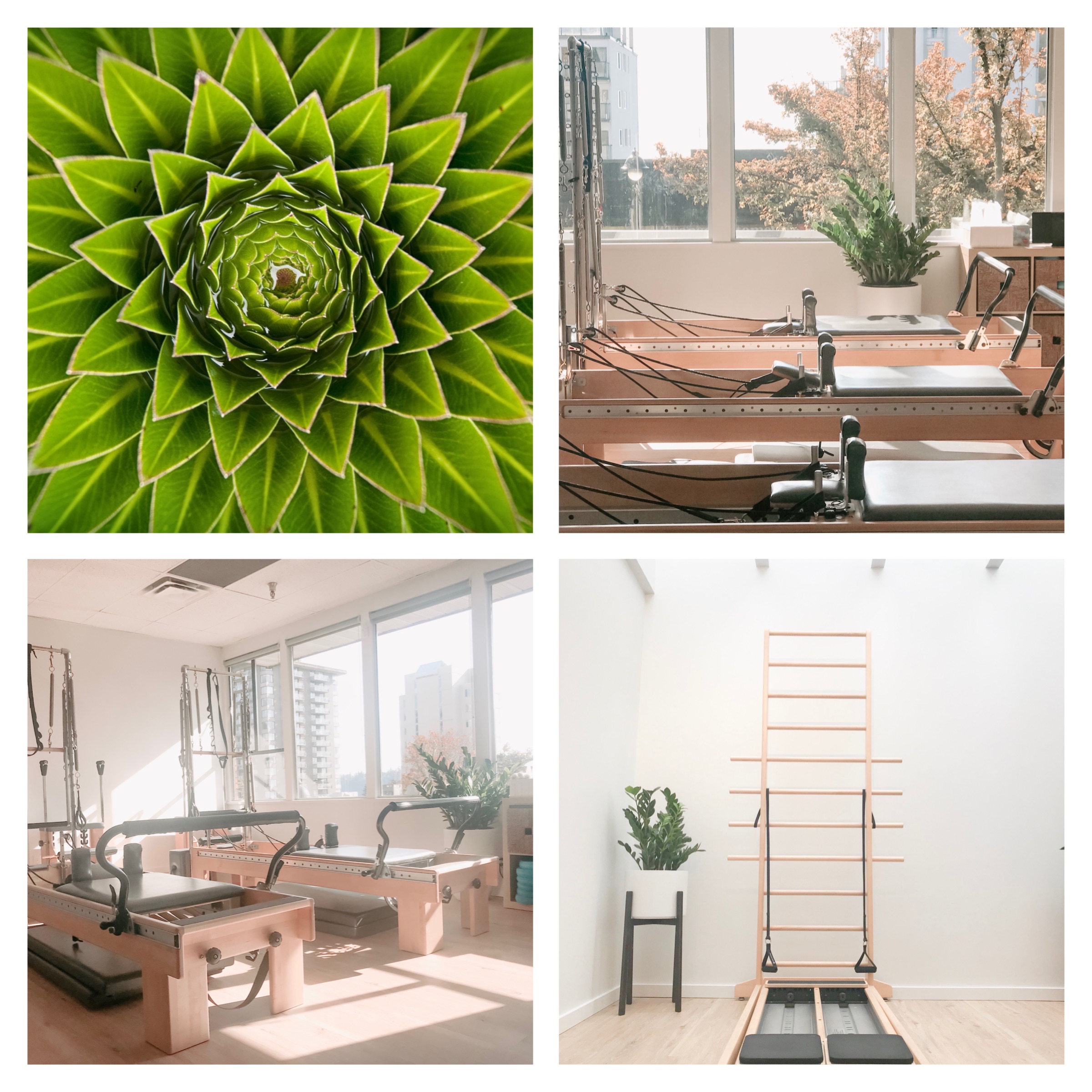 Foundation Reformer Pilates COVID-19 Safety Plan
In response to the COVID-19 Pandemic, Foundation Reformer Pilates has implemented the following Safety Plan and associated policies in accordance with B.C.'s Public Health Guidelines for Group Low Intensity Exercise published December 14, 2020. We acknowledge that this situation is continually evolving and are committed to updating this plan as required. Continue reading to see the protective measures we are taking to ensure the health and safety of our Foundation community.
Prior to Arrival
No drop-ins: All reservations must be made online through our app (Foundation Reformer Pilates on the app store) or email correspondence with our team at info@foundationreformerpilates.com. Drop-ins will not be permitted into the studio.
Mandatory Self Assessment: All participants and staff are required to complete the BC health assessment (found here) prior to entering the studio; the link will be sent to every participant via text and email prior to class.
Do your part: If you feel sick, have any symptoms, or have been advised to self-isolate please stay home. If you exhibit symptoms in the studio, for the safety of the community, you will respectfully be asked to leave.
Cancellation policy: COVID-19 related class cancellations outside of our cancellation window will not incur a fee.
Attend at your own risk: by choosing to attend class at Foundation Reformer Pilates, even with increased safety measures, you acknowledge and accept the additional risks associated with the global health pandemic COVID-19.
Arriving At The Studio
Arrival Time: Group class participants are to arrive 5 minutes prior to the scheduled class time to allow for a staggered entry and sanitization. The door will be unlocked and propped open at the 5 minute mark and your instructor will assign you a reformer.
Mandatory Self Assessment: For the safety of our community, participants will be required to confirm the result of prescreen upon arrival. Any guest who receives a response other than "you do not appear to have symptoms of COVID-19" to the prescreen questions will be asked to return another time and will have a credit applied to their account.
Hand-sanitizer: Participants are required to sanitize hands immediately upon entry. All staff to engage in frequent hand-sanitizing.
Guided floor plan: Participants and staff are to follow the decals to ensure a minimum of 6ft of physical distancing while in the hallway outside of and within the studio. If you attend class with someone in your social bubble, we still ask that you maintain 6ft from each other while in our studio.
Masks: All participants and staff are required to wear a face covering at all times when in the studio.  
No change rooms: Participants must arrive in class attire, bring only essential items needed for class, and only use the washroom if absolutely necessary. A maximum of one person is allowed in the washroom at a time.
What To Expect At the Studio
No congregating or socializing: We ask that you go directly to your assigned station after check-in and leave class promptly as it finishes.
Occupancy limits: please respect the occupancy limits are posted throughout each area of our studios.
Barriers: All stations have plexiglass barrier between them to prevent the transfer of respiratory droplets.
Cleaning: All high touch surfaces are sanitized between sessions. All shared equipment is cleaned and disinfected between use. Disinfectant spray, proven to kill COVID-19, is provided to guests after each class. We ask that guests thoroughly disinfect all parts of their equipment before and after class.
Reduced Capacity and Physical Distancing: Our studio is operating at a reduced capacity to accommodate a minimum of 2.5 metres of distance between class participants.
Time between classes: Our classes have been adjusted to support a minimum of 20 minutes between one another to allow for 5 minutes of post-class sanitizing and staggered exit, 10 minutes of no participants in studio with sanitizing, and 5 minutes of pre-class staggered entry and sanitizing.
No hands on adjustments: Our small class sizes will allow for personal verbal corrections but we will not be making physical adjustments.
Windows: Please be sure to bring a sweater, windows will be opened between and during classes as weather permits.
Grip Socks: All participants are required to wear grip socks during class, which are available for purchase at the studio.
Staff Policies: All of our instructors have been trained on and agreed to our COVID-19 Safety Plan and policies. 
Keeping In Contact
Contact tracing: We maintain a detailed record of every person that has been in the studio. Please ensure that your phone number and email address in your client profile is up to date.
Class Passes: We understand that everyone's situation is different and members may not, even with our enhanced protocals, be in a place to return to the studio. If you require an extension on the expiration date of your credits please reach out and we will gladly adjust!
Contactless Purchases: Group class packages can be purchased on our website or through our app (Foundation Reformer Pilates on the app store). For Private Sessions packages and grip socks, we ask that you email info@foundationreformerpilates.com and we will assist you in a timely manner.
Concerns: If you observe a violation of our Safety Plan or have any concerns, please contact us at info@foundationreformerpilates.com
IN 10 SESSIONS YOU FEEL BETTER
IN 20 SESSIONS, YOU LOOK BETTER.
IN 30 SESSIONS, YOU HAVE A COMPLETELY NEW BODY. 
– Joseph Pilates